Adventurekeys Surf Hostel Taghazout is situated on the south-west coast of Morocco, 19 kilometers from the city of Agadir. Originally, Taghazout was a fishing village inhabited mostly by Berber people. The Atlantic Ocean has blessed this village with good surf conditions for all surf levels. Taghazout is famous for its long right-hand Beach, Reef and Point breaks, which invites many surfers from various backgrounds. Hence, Taghazout is also known as 'the surf Mecca of Africa'.
Among all the Taghazout surf hostels, Adventure Keys is one of the oldest family run surf hostels in Taghazout. The house is spacious, with a number of facilities that you will not find in many other hostels – Pool Table, Foosball, XBox, Karaoke, optic fiber Internet, etc. If you're in the mood to really go off the grid, then there is a lovely rooftop with panoramic views of Taghazout to do while visiting Taghazout. If you need information about car-rental, local transport, or even just the local goats, just ask us, and we will tell you. Bay. The staff will be more than happy to share their experiences and give you tips on what
The chill-out terrace also has Steam Room and a Jacuzzi, which usually operates on Wednesdays, and anyone can join for a small fee, unless its included in your Learn To Surf package.
AdventureKeys Surf Hostel Taghazout has more to offer. The rooftop hosts a fully equipped Aerial Yoga facility. Fitted with 13 Aerial Yoga silks, the rooftop is an ideal spot to tune out and take in the tranquil Yoga vibes with an ocean view.
Things To Do while staying at AdventureKeys Surf Hostel Taghazout​
The main attraction in Taghazout and surrounds is, of course, surfing. The conditions are generally good for surfers of all levels. Whether you're a beginner wanting to learn surfing, or an experienced surfer looking for Taghazout Surf Guiding, AdventureKeys Surf Hostel Taghazout offers something for everyone. The seasons change, but generally its always warm in Morocco. With winter, the swell gets bigger and better for intermediate and advanced surfers. If you're looking for some serious stoke, we recommend you also read up our article: Taghazout Surf spots.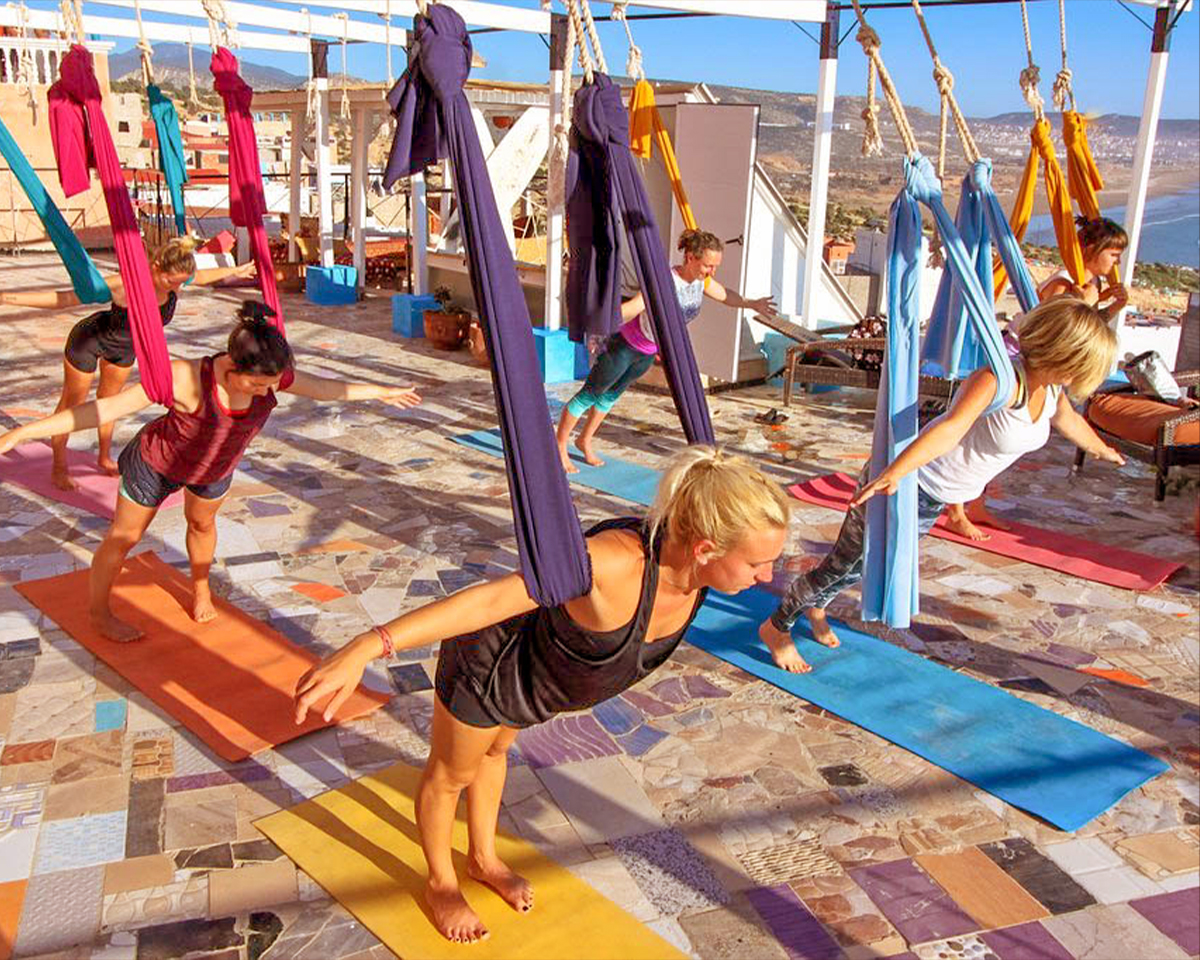 If you have never tried Yoga before, then this is your golden chance. At AdventureKeys Surf Hostel Taghazout, 2 x 60 Minute complimentary Yoga sessions are already included in the Learn To Surf package. Its a guarantee that after your first 1-hour session on the panoramic roof, you will be amazed by this blisssful Mind, Body, Soul experience. Yoga is an absolutely fantastic way to either start your day or soften up the muscles and after a long day of surfing. AdventureKeys Surf Hostel Taghazout offers 2 types of Yoga – Mat and Aerial. Of course, there are various dimensions within each category. If  you wish to dig deeper, you can learn about the benefits of Aerial Yoga.
A day in Paradise (Valley)
You might wonder what else is there apart from Surf and Yoga in Taghazout. Well, one of the answers is Paradise Valley. A beautiful Canyon surrounded by Palm Trees exists in this beautiful part of Agadir. We love every chance to visit this spot for many reasons. Rock-pools for fresh-water swimming and fish-spa, Cliff-Jumping, short hikes, sunbathing, or just eating local foods, it all exists inside this scenic valley. AdventureKeys Surf Hostel Taghazout organise your transport and lunch, so all you need to do is bring your swimwear, a towel and some sun-screen for your awesome trip to his unique landscape. The drive from Taghazout to Paradise Valley takes about 40 minutes, however, there is also a short stop-over at local Moroccan Argan oil factory. Here, you get a herbs garden tour and learn about different organics that are native to his region of Morocco. You also get a chance to taste the organic foods, and sample the health products including the Argan Oil made my the locals of this region. 
We arrived on a small parking place and jumped out of the car again, from here we had to walk the rest of the way. After just walking up one small hill we could already see the beauty of this oasis in the valley, with palm trees growing and a small river running through it. On the way be saw several small restaurants alongside the river where you could enjoy some freshly squeezed juice or a small meal, with your feet in the water if you prefer that. After walking for about 20 minutes we arrived at one of the natural gorges in the river that flows through the valley, here we had some fun playing with the locals who made watersides by simply just pouring water and soap on the cliff and slid down in the gorge, there were also different cliffs at different heights where you could show of some cliff diving skills into the gorge when in need of a refreshing bath. It's difficult to describe this paradise in words so if you're in the area you will definitely not regret taking a day trip to Paradise Valley. This place surely lives up to it's name.
If you're in for proper authentic cultural experience while visiting Morocco you should definitely do a trip to the local hammam. A Moroccan hammam can be compared to a Turkish bath, but it has it's differences.
The hammam is a very important part of the Moroccan culture. The locals usually go to the hammam once a week to cleanse their skin and body and pick up on last days gossip with their friends and family.
When you enter the public hammam you have to pay an entrance fee (around 12MAD/€1.50) and then you go into the changing room to get undressed for the cleansing. Now you are ready to enter the sauna! This is like a normal sauna where the purpose is to sweat out all the toxins in your skin so you can get it washed of with a bucket of nice, ice cold water in the next room. Here you can also get someone to scrub your body from top to toe until the point where it feels softer than silk, when your skin has been scrubbed you can, for an extra fee (around 50MAD/€4.50) get a massage. This is not for the easily frightened, because these guys sure give you a rough treatment. Then you're good to go back to the dressing room, get your clothes back on and enter the world as a refreshed, clean and stretched man or woman.
The city of Agadir is the place to be if you would like to go to a pub, nightclub  or a restaurant that is more similar to the European tourist cities. The beach promenade is busy and packed with shops, bars and restaurants with a beautiful view over the city beach.

The part of Agadir that I found most interesting and more authentic Moroccan was the so called Souk, the market. Here you can stroll around for hours just absorbing the vibrant atmosphere of salesmen in their shacks selling everything from handcrafted jewelry, clothes, spices, tools and everything between, people haggling trying to make a good deal. You can also make some really good deals if you want to bring home some souvenirs to show your friends and family or groceries to cook yourself a proper Moroccan meal after a long day of walking and haggling. Just remember to keep an eye out for pocket thieves and always try to make a better deal for yourselves if you buy something.
If you, as I did chose to stay at AdventureKeys Surf House and Yoga you will be served a delicious and healthy Moroccan dinner every day you're here, but I would also recommend to go to some of the local restaurants in Taghazout. The places close to the beach offer a more familiar menu with hamburgs, pizzas and pasta, but with a Moroccan twist which can be enjoyed with some nice fresh ginger beer or fresh pressed juice. For a more authentic culinary experience you should definitely go a small restaurant that is located underneath the mosque in Taghazout. Here they serve different types of Tagine. Tagine is an traditional Berber/Moroccan dish which consists of meat, seafood or chicken with vegetables and delicious Moroccan spices cooked in a earthenware pot in endless different varieties. The pot they prepare it in is also called a Tagine.